Regular Sessions
We meet regularly on Monday afternoons to work together on individual or shared projects.
These sessions form the heart of the Art Group and members are encouraged to attend as often as they can. We share enthusiasm and experience, socialise and generally have fun. Tea, coffee and biscuits are involved!
Most sessions through the year are labelled 'do your own thing' in which members work on their individual projects. Several sessions are given over to demonstrations and talks by members or invited local artists.
The following are examples of work from recent sessions.
Creative Mark-Making
A session led by Julia Wise. One challenge involved using water colour and a credit card.
Wendy:
Ball Point Pens Only!
Delyse:
John R:
Wendy:
Music While You Work
Three short pieces of recorded music were played and we were asked to draw or paint somethng in response to them. We had to complete our responses over the duration of each piece. We knew nothing about the music before it was played, other than the durations.
It was interesting to compare our different responses! The pieces of music were: (1) Ascent by Arve Henriksen, (2) Number One by Manu Katche and (3) Every Day I Thank You by Pat Metheny.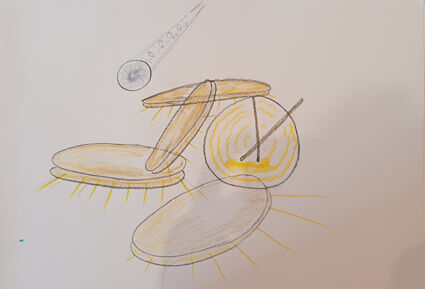 Wax Works!
A session on encaustic wax techniques led by Sue Tyldesley.
Amanda: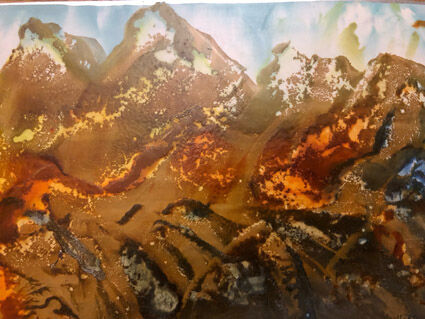 John m:
Interpretation of Summer Fields by Joan Eardley
Paintings completed in two hours, in a variety of media.
Lin: acrylic and pastel
Amanda: acrylic
Judith: watercolour
Tinnie: acrylic
Oil Painting on a Shiny Surface
A session led by Wendy Barrington
A Bigger Splash!
A collective piece in watercolour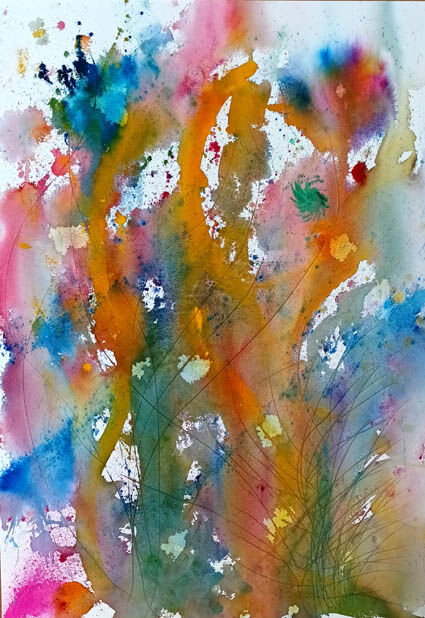 Memories in Charcoal
Awena:
Bob:
Clare:
Jane:
Jill:
John M:
John R:
Julia:
Ken:
Maggie:
Mags:
Muriel:
Sue:
Sue:
Wendy:
Pixellation
Judith:
David Hockney's Garrowby Hill
Occasionally we have sessions in which members are challenged to complete a painting in 2 hours, interpreting a particular famous (or less famous) painting. Here are some examples of work produced in response to Hockney's
Garrowby Hill
:
Lin:
Julia:
Wendy:
Amanda:
Muriel:
John:
Creative Colour
Amanda:
As a community-based art group, members vary in their levels of skill and experience, from new beginners to artists working at a professional level. Learning from each other and giving mutual encouragement are important objectives of the group. The enthusiasm, fresh thinking and questioning of new artists are as valuable as the knowledge and experience of the old timers!