Regular Sessions
We meet regularly on Monday afternoons to work together on individual or shared projects.
These sessions form the heart of the Art Group and members are encouraged to attend as often as they can. We share enthusiasm and experience, socialise and generally have fun. Tea, coffee and biscuits are involved!
Most sessions through the year are labelled 'do your own thing' in which members work on their individual projects. Several sessions are given over to demonstrations and talks by members or invited local artists.
Occasionally we have sessions in which members are challenged to complete a painting in 2 hours, interpreting a particular famous (or less famous) painting.
Here are some examples of work produced in response to Cezanne's Lac d'Annecy.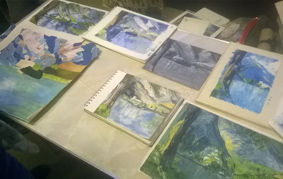 As a community-based art group, members vary in their levels of skill and experience, from new beginners to artists working at a professional level. Learning from each other and giving mutual encouragement are important objectives of the group. The enthusiasm, fresh thinking and questioning of new artists are as valuable as the knowledge and experience of the old timers!