Group Challenge
Every year we have a Group Challenge in which we develop a single art work or, more usually, coordinated art works, which we show at our Annual Exhibition.
The subject is introduced usually just before Christmas so that people can plan what they would like to do during the holiday break. In the New Year we have a session to get everybody started on their piece of work, and then it is up to the individual. The finished works are gathered together in May ready for display during the Annual Exhibition. The challenges are very variable, and people are encouraged to experiment and to think 'outside of the box'. It is a popular activity and people have produced some really interesting work. The pieces are not usually produced with the idea of being 'for sale', but nevertheless several pieces have been sold, following on from enquires from would-be purchasers.
Here are some example challenges from recent years.
Tree-ness
This project was prompted by the loss of several much-loved local trees at the hands of Storm Awen. We were asked to create up to six square images on the theme of
Tree-ness
. The squares were small - just 4 x 4 inches. Images on the squares could be independent of each other, or 'cut-up' pieces of a larger image.
All contributions were put together and a large display was created from them. This was shown at our Annual Exhibition.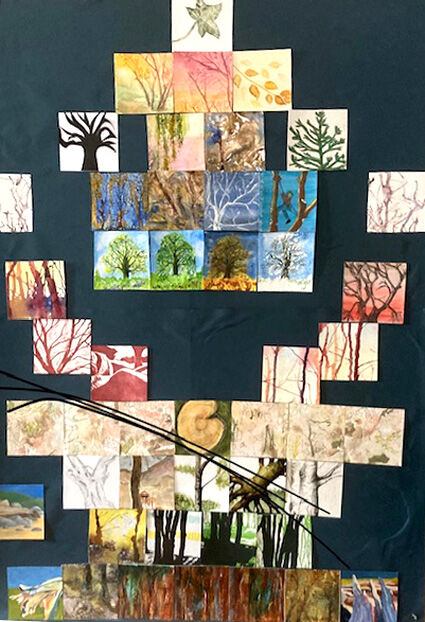 Hole or Holes
We were asked to create a piece of work related to or informed by these words. Work could be in 2D (maximum size A3) or in 3D.
Elaine,
The Moon is Made of Green Cheese
:
Keith R,
The 13th at Silverdale
:
Hilary A,
Toes
:
Julia,
Cathedral Cove
:
Val,
Toad of Toad Hole
:
Jill,
Voles in Holes
:
Vivienne,
Black Hole
:
Liz,
Mouse Hole
:
Fragments of Guernica
We were asked to select a 1 in square from a print of Picasso's
Guernica
and to interpret it in our own style in a 12 in square format.
Inspired by Poetry
In 2018 our Group Challenge was to raise awareness of environmental issues by illustrating poems from a book by Judith Nicholls called 'Earthway's Earthwise'.
Inside Outside
Members were asked to produce a piece of work with the title 'Inside, Outside'. There were no guidelines, any medium could be used, and as always artists were encouraged to think outside of the box.
Interpretations of Cezanne
Three paintings by Paul Cezanne were selected and members were asked to choose one to recreate in their own style.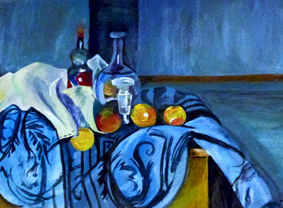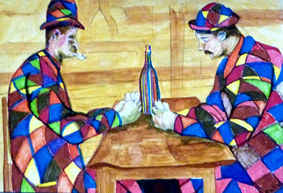 Little Boxes
This challenge was our contribution towards celebrating 200 years of the village of Silverdale. Members were given 3" x 4" box canvases and asked to paint what Silverdale meant to them. The result is shown at the top of this page.
The Big Picture
The Group has produced a number of 'Big Pictures' over the years, usually with a longest side measuring about two metres in length. A well known painting is selected, divided into small regular grid sections and members are asked to produce a painting of their chosen section. These projects are great fun, but a lot of hard work. A lot of negotiation and cooperation is required between everybody if all the sections are going to match, and come together to make a coherent whole painting!
Yellow, Black and White